DigiRehab's targeted training creates a significant reduction in the need for home help. In this way, not only an increased quality of life for the citizens is achieved, but also a solid economic gain.
Overall, the effect of 15,000 training sessions with DigiRehab has created a decrease in the need for help of approx. 30-45 min. per week per citizen on average.
The positive effect of the training is documented in all DigiRehab's partner municipalities – but of course with certain variations in the decrease in time consumption.
The example below shows the result of a larger power measurement from Viborg Municipality.
Case: Financial and time gain in Viborg Municipality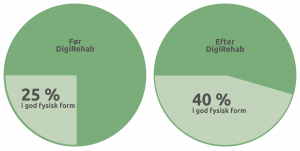 Physical fitness: The proportion of citizens in good physical condition increased from 25% to 40% after 12 weeks of training with DigiRehab. Citizens trained 2 x 20 minutes a week with care staff.
Need for help: The group of citizens who trained with DigiRehab in Viborg Municipality achieved an average reduction in the need for help of approx. one hour per week per citizen.
Financial gain: The decrease in the need for help corresponded to an average saving of approx. 10,000 kroner per citizen in the first half year after the end of training. The investment in the training effort itself has been taken into account. This is a net gain.
Experience has shown that a similar effect can be achieved in almost half of the total group of home help recipients in a municipality.